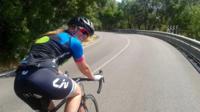 Road Cycling in Madrid.
Enjoy Road Cycling in Madrid with OLE OUTDOOR.
With our Cycling Day Trip you can go to some of the most breathtaking natural sceneries you can imagine. Barely 10 minutes from the center, lie the beautifully wild and rugged forest slopes of "El Pardo". and "Casa de Campo". And – juist 30 minutes further – the must-see for all Road Cycling lovers: our Sierra de Guadarrama National Park.
Road Cycling itineraries for all levels.
DISCOVER THE BEST ROAD CYCLING WITH OLE OUTDOOR!
Categoría: Actividades al aire libre.
Inicio en: Madrid, Spain.
Duración: 4 horas.
Precio: 132,00 euros.